Publish, Market and Promote your book, this is the key to success
We also understand that you want your book to be as successful as it can possibly be.
This is what we can do for you.
Publish your book to an international standard.
Guide you every step of the way to success.
Help you to become a bestselling author.
Help you become an international selling author
Promote your book to international literary agents around the globe.
Promote at International industry book fairs, on the main Australian stand.
Get books printed cheaply so you can compete with the major publishers
Market and promote your book to real book sellers
Get your book into real shops in Australia, USA, UK and Europe.
We make sure you have 100% copyright to your entire book, not just to your words
We are Australian based, not a call centre in the Philippines, or elsewhere.
Your book will be Australian registered not a foreign book.
See some of the books below we helped authors to create.



At Australian Self-Publishing Group Pty Ltd we have the marketing and promotion capabilities to get your book out to the whole world. We have 230,400 partner companies at this time that can get your book and eBook seen by millions of book lovers.


Many authors become fixated on publishing, but what they do not realise is that this is only 20% of the journey; the other 80% is marketing. The plain truth is, with no marketing or promotion, there will be no sales. This is where we can help.
For over 8 years, we have specialised in book marketing and promotion. As book marketing and promotion specialists, we can help you get your book out in front of industry people and find you the right market. Each year we attend the biggest international book fairs, where we promote Australian books to the world (your book could be one of these). The book fairs we attend each year are Taipei international book fair in February, Beijing in August and the Frankfurt Book Fair in October.
We also specialise in internet marketing and promotion. Gone are the days when authors sold their books exclusively through bookstores; with the emergence of eBooks, sold through companies such as Amazon, it has forever changed the way people buy and read books. We will help you get your books onto this platform, and in addition to this, we can also show you how to get hundreds of people selling your book all over the internet through affiliate marketing. We are very familiar with this method of marketing; most other publishers are not.
To find out how we can help you publish, market and promote your book, please send us an email or a request, we would love to hear from you – publishaspg@gmail.com.

We are not vanity publishers, we are cooperative self-publishers
This means unlike other so-called self-publishing companies, we give you 100% copyright to your book, not just to your written words. We give you all high-resolution files of the cover design, the interior layout and all fonts used. They are yours, you paid for them, you own them. This also means you do not have to buy over priced copies of your book from anyone, you are free to print anywhere at the best costs you can get.
If you decide to deal with an overseas vanity publisher, because they tell you they can print your book for $4, ask them what the postage is on the books? You will discover that the book will cost you $14 to $15 after postage. You cannot make a profit buying a book at $15, you will lose money.
A note of caution: If any company asks you to pay upfront for their publishing services, be very aware. Once you pay, you are at their mercy. We get emails all the time from authors who have lost their money or received a book that was well below standard. We never charge authors full costs before they are happy with the book; nor should any other company.
What can the Australian Self Publishing Group do for you?
Well, we can help you to get your book from an idea to publication and help you promote it worldwide.
HERE ARE MORE THINGS WE CAN DO FOR YOU.
Why Publish with Us?
We can help get your book onto the Amazon Best Seller list.
We can help you become an international bestselling author.
We can help you get your books printed at a fantastic price.
We make sure authors get printed books at a price they can make a profit. Considering a shop needs 40 – 45% discount for selling books, (both online and offline), it is imperative authors are not overpaying for printing their book.
Here is a list of the basic printing costs at 50 books at a time, digital printed. Even cheaper for 100 books at a time.

100-page book cost to print, $4.50 each
150-page book cost to print, $5.15 each
200-page book cost to print, $5.90 each
250-page book cost to print, $6.50 each
300-page book cost to print, $7.20 each

If you wish to offset print, it would be around half the above digital printed.
We can help you to make a successful marketing plan.
We can help you to promote your book all over the world, by taking them to International Book Fairs (London, Frankfurt, Beijing etc).
We can help you with advice on the structure, title and graphics for your book.
We can help you with our knowledge on how to get your book onto bookstore's shelves.
We can show you how you can make your book extremely profitable.
We can teach you how to become an expert in your field, and build credibility for yourself.
We can list you on Nielsen's book data system that is available to the whole world.
We will list your book on all major online bookstores in Australia, including Fishpond, iSUBSCRiBE etc.
Sell your book into Europe and the UK with our European POD partner.
We can help you to contact distribution companies, so you have access to more bookstores.
We can get your book into Australian shops.
We can get your book listed with 232500 eBook selling platforms, libraries and university bookstores around the world.
Drop us an email to discuss what we can do for you.
Australian Self Publishing Group. Promoting Australian authors to the world.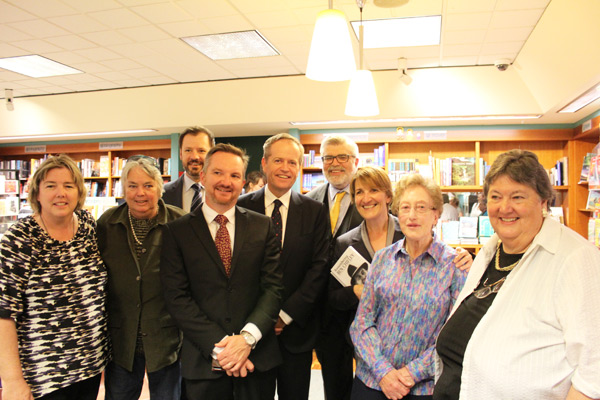 Bill Shorten, Chris Bowen, Ed Husic and Kim Carr, Jane Chifely, Sue Martin and other family members of the Late Prime Minister Ben Chifley at the book launch: for Remembering Ben Chifely book at the PaperChain Bookshop Manuka.