We had a wonderful book fair with great interest in all our books. One Literary agency was so impressed that they will list all the books on their agency platform for more promotion.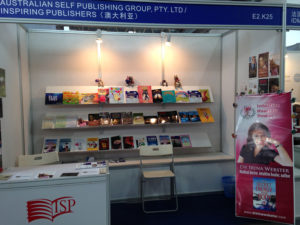 This is great as it means ongoing representation for the authors, as literary agents look for publishers who may want to pick the book up and offer a contract.
Nothing concrete happens at book fairs, book fairs are a face to face contact place, for ongoing discussions about books. Book fairs are talking to the people who can make a difference like: literary agents, rights managers, editors, etc. People self published authors can never contact or ever get to meet.
We make this happen and then it is totally up to the companies to choose which books if any will move to the next stage. All books we take will stand or fall on their own merits, which is good for the author to know.
Here is a review from the Beijing book fair from one of our authors, and our partner company ContentoNow, who we introduced the book to.
ContentoNow took the book to China and the Chinese government wanted the book to be placed in 10,000 libraries. A retail company will be selling the book in China too. Another company is going to translate a chapter for trail to test the market.
So thank you once again, William.
Belinda.
Books that are being listed with Inbooker literary agency, from the Beijing book fair 2016
A Project in Ammonia
By R.B. Ward
Fiction

An adventure in physical, management and social engineering and contradicts turgeon's Law (ninety percent of everything is crud) by what happens when an unlikely group of four people, two Australians, one English and one French-Israeli, fight their way through the bureaucratic maze of their employer, assisted behind the scenes by the Chief Executive, and get what they want: exile to a colony, to build a fertilizer factory there. All against the preferences of the company's directors who persistently do what they can to upset the exiles' work, including adding an American colonist to the team, a person expected to be incompatible with the others. Some of their time at work is normal boring crud. But some is fun, some brings headaches, some is heart-breaking, some is deadly. It's all adventurous.

A Commisioning in Ammonia
By R.B. Ward
Fiction

Continues the adventure… Which began as getting a project approved And then building an ammonia-based fertilizer factory. There's keeping the Head Office satisfied And controlling a group of smart people at several levels Plus covering what government regulations require Then getting the factory built is not the end of the job After that there's commissioning, making it work And all the odds and ends of left-over details to be completed Including making the contractor finishes what he's paid to do And then there's company accounts to be signed off After all that we hope we have a reasonably happy "working family" Because people are an essential part of running a business So although this is about engineering and management It's a story about people.

Beginning in Ammonia
By R.B. Ward
Fiction

So the Ammonia Factory at Muddy River Bay is now operating. Of course, now the hard slog of building it, and the excitement of commissioning it, are over, everyone expects life will be quieter. But there's always something to bother a manager such as getting sales up to match minimum production, and the behaviour of the people close to the manager, and the enterprising nature of junior engineers, and what comes from the organisation levels above him, all causing a mix of good results and headaches. And that's some of what being a manager is all about. Yes, that's some of it, but the work around a manager causes other events to occur, so there's no end to what circumstances can throw up.

1101 Words2Watch
By David Coe
Self Help, Learning, English

Use the right word every time English can be a minefield of embarrassment even for professional writers when the wrong word is used. In this wonderfully simple book, veteran journalist David Coe helps wordsmiths untangle many confusing and misused words. It is a must-have book for business writers, analysts, journalists, academics and executives. Flick through it and see how easy it is to use the right word every time. It will never leave your desk.

Test yourself

Do you know the difference between:

• Affect and effect
• Continual and continuous
• Comic and comical
• Forgo and forego
• Historic and historical
• Its and it's
• Infer and imply
• Naught and nought
• Obsolete and obsolescent
• Tortuous and torturous

Threads of Time
By Gillian Scott
Fiction, for Mature age readers

Anglo-Aussie author writing for mature age readers! Gillian Walker is a published author of several popular non-fiction science books arising from her career as a biologist. She is also an internationally recognised botanical artist. Now she is writing fiction based on some interesting life experiences, under the name Gillian Scott. Her first novel is called: Threads of Time. It includes crosswords, academic politics, middle-aged parenthood and ESP. A good read will be had by all. Contact the author on gilliansl2o2@gmail.com

Mistress to the Crown
By Isolde Martyn
Historical Novel
Published by Harlequin Mira in Australia, New Zealand, UK and Germany.

Nobody knew who she truly was until recently so it has now been possible to flesh out the real person. Her name was Elizabeth Lambard. She was the daughter of one of the London sheriffs, a leading merchant, and she was married in her early teens to William Shore, a frigid man twice her age. She managed to get a divorce with the king's help. When King Edward died, his brother King Richard III had her thrown into prison for treason but Richard's Crown Solicitor fell in love with her and by marrying her was able to free her. Sir Thomas More wrote of King Edward's affection for her: 'Many [women] he had, but her he loved'. That's a wonderful heart-warming description of one of history's most lovable heroines.

The Devil in Ermine
By Isolde Martyn
Historical Novel
Published by Harlequin Mira in Australia, New Zealand, UK and Germany.

The novel is set in the year 1483 when Richard III deposed his nephew and became King of England. The major character is Richard's cousin, Harry, Duke of Buckingham and the story is told in the first person. Harry helped Richard become king and then turned against him. I wanted to really dig deep into Harry's character and find out why. What went wrong between these two men?

The Adventures of Ollie, Min Min & Ratty, and the Call of the Raven
By JW Lomax
Children's middle grade fiction
Voice: Told in the first person – 'You are the Narrator'

This is a story set in the Australian bush about an ancient Olliegator, who after hundreds of years of living a life of endless afternoon teas and mindless daydreaming in the family swamp, is suddenly thrown into an unknown world that challenges his reason for being. At his side are best friends, Min Min, a spiritual being who lives on the warm summer breezes of the western desert, and Ratty, who is just a rat! Together they take on many challenging ordeals both physical and mental with friendship and honour in their hearts, and along the way through transformation, Ollie overcomes his anxieties and confusion about the world as he discovers his essence of 'Courage'.

'You would be foolish not to heed the call of the Raven', whispered Min Min

The Ochre Cloak
By Peta Burton
Non-Fiction Travel

The Ochre Cloak is a personal account of one women's ability to harness the here and now, and notice what many of us fail to see, hear and feel. If you have ever been to Uluru before, lose yourself in this exceptionally detailed tribute to one of Mother Nature's accolades. Although walking around Uluru 100 times is not for everybody, but when you read this book you will think you have done it.

Horses Who Heal
By Sue Spence
Non Fiction

Horses Who Heal is the story of one woman's deep love for horses and the powerful life lessons they've taught her along the way. With Sunny always by her side, Sue's equine team are inspiring others on their own journey
of healing, helping thousands of people – from juvenile offenders to company CEOs – discover the power of communication, using more than just words.

The Barrakee Mystery
By Arthur W. Upfield
Fiction Detective

An Inspector Bonaparte Mystery # 1 featuring Bony, the first Aboriginal detective Why was King Henry, an aboriginal from Western Australia, killed in New South Wales? What was the feud that led to murder after nineteen long years had passed? Who was the woman who saw the murder and kept silent? This first story of Inspector Bonaparte takes him to the Darling River bush country where he encounters those problems he understands so well – mixed blood and divided loyalties. The first of 29 Bony novels, published in 1930. Over 50 million BONY books have sold in English. Not yet published in China. Soon to be a new TV series.

The Tortoise in Asia
By Tony Grey
Historical Fiction

The Tortoise in Asia is an historical fiction based on a legend popular in Gansu, the far western province of China. Some people there have Caucasian features, a curiosity that has given rise to a thriving tourist attraction based on the belief that they are descendents of Roman legionaries who travelled along the Silk Road. It is an adventure story beginning with the lead up to the battle of Carrhae (in Anatolia) in 53 BC. Marcus, a young and upwardly mobile centurion tutored in the Greek classics is the adviser to Crassus, the general in charge of the Roman invasion of Parthia (ancient Iran). He gives self-interested advice and the Romans lose the battle. Crassus (from whom the word "crass" is derived) suffers a grisly fate.
Other results are listed below. Many companies took our catalogue for further appraisal and will get back to us.
* Thaihabooks, Nguyen Hung Vietnam publisher.
Catalogue given, he will contact us if any books of interest.
* Big Apple agency, Chris Lin
Catalogue given. Interested in many books arranging PDFs to be sent.
* Chiso Xinjiang Juvenile Publishing House, Washington Hua editor.
Will go through Catalogue and get back to us.
* Central China Land Media, Wen Huijuan, rights manager
Interested in books and took catalogue. Will get back to us.
* ECPH, Zhao Xin rights manager
Took catalogue and will get back to us.
* Ccppg, Clara Bai Foreign rights manager.
Interested in Children's books. Took Catalogue.
* Beijing Standway Books, Zhang Qian Qian
Took catalogue and will get back.
* YiLin Group. Yuan Liying Copyrights editor.
Interested in Young Adults books. Took Catalogue.
* Neusoft, Daisy Xu
Interested in all Children's and Young Adults to 18years old. They have a very special platform for selling eBooks and they do all promotion, upgrading eBooks to epub3 and HTML5, good profit sharing arrangement.
* Chinese Universe Publishing and Media, Daniel Tang
Interested in all books, they are the biggest publisher in China with 9 publishing houses. Took catalogue and will get back.
* Sichuan publishing house, Lulu Yang, Editor.
Took catalogue quite interested in a lot of books will get back.
* Wisfield Culture Communication (Beijing) General Manager.
Took catalogue and will contact us back.
* Xi An Jiaotong university press. Zhang Miao PDF Secrets book.
Northern United publishing and Media, Zoe. Interested in 6-12 children's books send more information.
* Jiaxi books, Kim Pai agent.
Interested in many books arranging to send PDFs. Foreign Language Teaching press, Qian Jingyu Rights manager.
took catalogue, interested in more children's books.
* InBooker agency, Suture.
Took all books for further promotion. Listed all books on there website.
* Tianjin Sunmia Culture communications, Ma Sai copyright manager.
Took Catalogue interested in many books.
* Jiangxi Science & Technology press , Liu Liting Director.
Catalogue given.
Also see the video's for the onstage promotion we did, which drew a good audience with quite a few literary agents and publishers. One publisher from Vietnam was very impressed and will contact us shortly. We would never have met this person if we did not do the onstage presentation.
Others to attend were from the biggest publisher in China, who gave me their card and told me to contact them.
All in all a great productive book fair.
Featured Videos

First Video Presentation – Dr Irina Webster

The Secret Energy of your Body, author Dr Irina Webster

When Fates Collide – Author Arghya Khan

1101 Words 2 watch – Author David Coe

Musings at Deaths Door – Author Raja Arasa Ratnam

Blue Thief and While Mandy Waited – Author Judy Caulduro

Eleven Author Minn

Changing Sux – Author Geoff McCelland

Cold Gold – Author Dennis J. McTaggart

Vengeance capital city ground zero. Author Christopher David Cartledge

What's So Smart About Intelligence. Author John Sewell

Healthy pregnancy from A to Z Author, Dr. Irina Webster