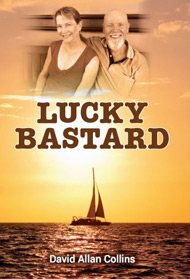 A young woman gives birth to an illegitimate child in the 1940's.
She has spent most her life living with foster parents in the West Yorkshire market town of Otley. She is literally thrown out of the house by her foster mother and travels to the city of Bradford where she is admitted to a refuge for unmarried mothers. The refuge also serves as a remand home for female offenders awaiting trial.
Whilst living there, she is very poorly treated. The father of the child has abandoned her upon discovering that she is pregnant and the young woman (Maud), vows never to tell her son who his father is – a vow she keeps throughout her life.
At the age of sixty the 'bastard' is tracked down to the Northern suburbs of Perth in Western Australia by a half sibling who has used information contained in letters and documents found in her father's desk following his death.
The author is the 'bastard' referred to in the book's title. He lives in Perth WA with his wife of forty two years. They have two children and two grandchildren.
He has recently retired following a long career as a Primary School Teacher.
After believing for most of his life that he has no relatives, he is supremely happy to finally learn not only the identity of his biological father, but also news of four younger half siblings and their families.